Click on Detroit Visits the Bruce Mansion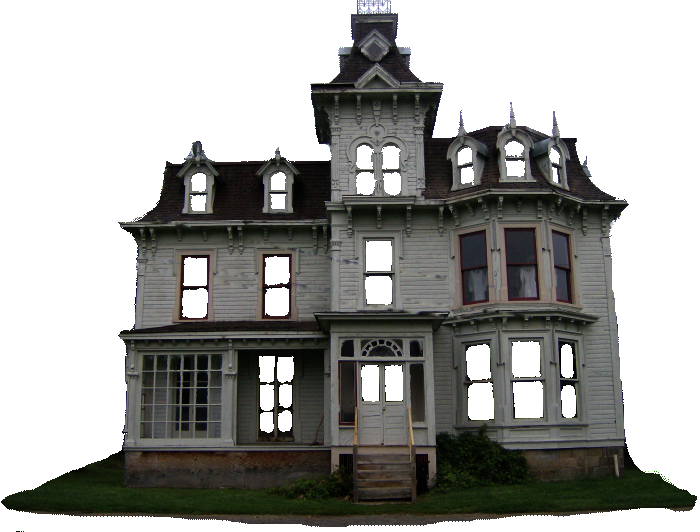 January 12, 2013 - Brown City - It was a wet and unusually warm night in January when 20 strangers met inside an old Victorian mansion off of Van Dyke Road. Among the guests were paranormal investigators, local residents, and even a pair of news reports curious about the house that looked like it came right from a classic Vincent Price horror movie. One guest came as far as Florida to find answers to this unusual property. Tonight they gathered to conduct a ghost hunt in hopes of catching paranormal phenomenon on film or to have experiences with the Otherside. What they did not know was how happy the Otherside would be to give them those experiences.
The Bruce Mansion, built in 1876, is a crown jewel of local history and paranormal phenomenon. It was originally constructed for John G. Bruce, his wife Jane, their three children, and his business partner and brother-in-law, Daniel Webster. John Bruce was a Scottish immigrant and entrepreneur in the agricultural town of Brown City. He started the general mercantile store in the town and was even the town's post master. The house was built to reflect the status of his wealth from its modern (at the time) coal furnace to its detailed moldings and ornate fixtures. It would be used not only for the pleasure of his family, but to conduct business as well with its two parlors and Mr. Bruce's private office.
During this time, the family home was also a social spot for the town. It had a large ballroom for entertaining guests and two enclosed porches. The porches were used for plants and gardening during most of the year. However, they were also used for a more melancholy purpose as well. There were no funeral homes in this time and place. So when people of significance died, they were displayed on one of these porches off the parlor. It is likely that when Jane Bruce passed away in the home, her body spent time on the one porch before being received back to the earth.
Today, guests were hoping to encounter Jane Bruce or one of the other residents that had died on the property. The Bruce Mansion has at least three home owners that passed away in its grand rooms over the years. The most nefarious is John Walker in 1926 who is believed to have hung himself in the bell tower. His stay being one of the shortest in the house. The home had changed hands numerous times and has changed roles as well. It has been everything from a family home to a bed-and-breakfast to a costume rental store. At least one local has mentioned it being a house of ill-repute at one time. Regardless of its function, it has always been filled with people, energy, and activity, activity that would carry on into the afterlife.
Click on Detroit came out to the Bruce in hopes of getting a glimpse of that afterlife and they were not disappointed. During their visit to the mansion, they were given a historical tour of the property and in a few locations, they felt uneasy and less than wanted. These feelings were possibly confirmed when one person during a photo shoot witnessed a door slam closed on them through the viewfinder. Grimstone Inc. Lead Investigator, Dave Owens was with them at the time. The response was a wonderful article on their website and a photo gallery of beautiful pictures. This may not have been the ghost's intent, but certainly appreciated by Grimstone Inc. and the Bruce Mansion.
The Bruce Mansion, www.brucemansion.com, offers a number of public and private ghost hunts throughout the year to interested parties. In addition, they have partnered with instructors from Grimstone Inc. who have taught at Southgate Continuing Adult Education, to provide a number of paranormal related classes for enthusiasts to seasoned investigators. A portion of the money collected is being used for restoration of the home and supporting community programs. Be sure to visit the website for tickets and samples of just some of the evidence collected to date.